Cookie 201: SUN-sational Summer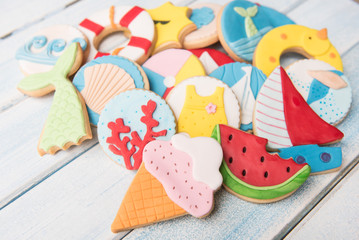 Cookie 201: SUN-sational Summer
The fun continues! Sweet Celebrations will host the Summer Theme Cookie Decorating Class on April 20, 2019, from 5:00 p.m. until 7:00 p.m. The Summer Theme Cookie Decorating Class will be held at Hobby Lobby in Dothan, AL.
Build onto the essentials to cookie decorating. Learn more decorating techniques. Learn how to create a set. Learn about packaging. REGISTRATION-closes 3 days prior to class & must prepay to register.
OVERVIEW:
We'll review the icing consistencies and icing techniques.
We'll make royal icing and decorate together. I'll demonstrate each step of the way.
Theme - Summer designs
Supplies and Curriculum Notes
• The cookies will be provided.
• We will cover icing consistency.
• You will receive a copy of icing and dough recipes.
• You will decorate 3 (plus 3 practice) cookies.
• Any supplies provided will be class use only.
• You will need to bring:
Decorating Tips- 1, 2, 3, 5, 21, 104, 352
Food-Safe Decorating Brush Set
Decorating Bags
Apron
Damp towel
Gallon Storage bag
Box/Container to take cookies home
*Registration is not complete until the class is paid in full.
*Registration fees are non-refundable (unless I have a 7 day notice) and non-transferable.